In the ever-evolving marketing realm, one demographic has emerged as a pivotal force – the Hispanic market. With its expanding influence and substantial purchasing power, this segment has become indispensable, particularly among today's generation. In this blog post, we will explore the profound impact of Hispanic markets on The Now Gen and provide insights on how marketers can effectively reach out to them while creating meaningful brand experiences.
The Growing Influence of the Hispanic Market
With over 60 million individuals constituting roughly 18% of the total population, the Hispanic community yields formidable purchasing power, exceeding $2 trillion annually in the U.S. alone. This statistic underscores the critical importance of engaging this demographic.
Hispanic culture has indelibly influenced American society, permeating areas such as music, cuisine, fashion, and entertainment. Brands harnessing this cultural influence can foster deeper connections with the now gen consumer.
Predictions suggest that this demographic will continue to surge, ultimately comprising approximately 30% of the U.S. population by 2050. These shifting demographics hold far-reaching implications for businesses and marketers.
Reaching Out to the Now Generation
The now gen, encompassing Millennials and Gen Z, has grown up with technology as an integral part of their lives. To effectively engage this audience within the Hispanic market, marketers must employ strategies that resonate with their digital and culturally diverse lifestyles.
Embrace digital marketing channels like social media, influencer collaborations, and mobile apps, which are favored by Hispanic millennials and Gen Z. Tailor culturally relevant content for platforms like Instagram, Snapchat, and TikTok.
Acknowledge the linguistic and cultural diversity within the Hispanic community. Craft messaging in Spanish and English, recognizing that many Hispanics are bilingual or prefer English.
Ensure that your marketing campaigns reflect the diversity of the Hispanic market, featuring individuals from various backgrounds to foster inclusivity.
Overall, it is important to recognize that the Hispanic community is an intricate part of our world. During this Hispanic Heritage Month, brands are taking steps to celebrate the richness and diversity of this community.
Implementing Experiences Targeted to the Hispanic Market
The Hispanic market represents an unparalleled opportunity for brands seeking to engage with the new generation. As its influence grows, marketers must adopt inclusive, culturally sensitive strategies that leverage digital platforms and celebrate the rich diversity within this demographic.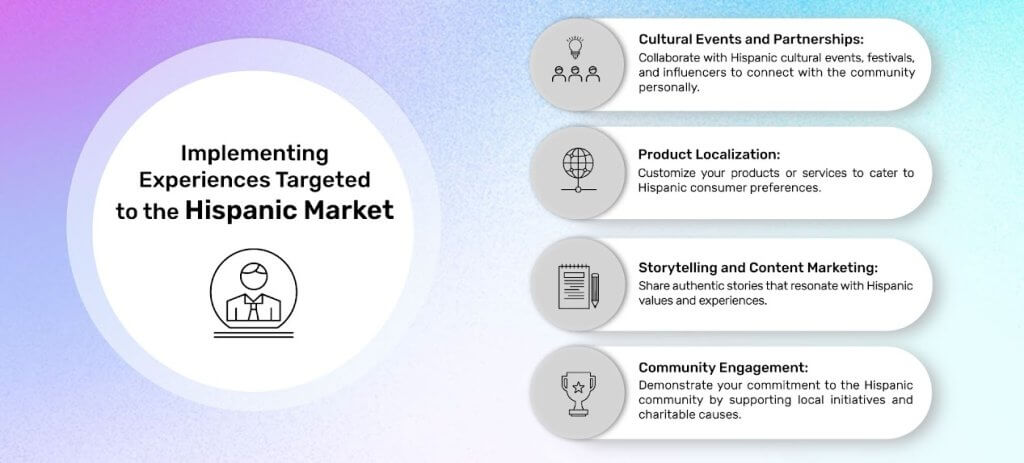 By recognizing the significance of the Hispanic market and implementing meaningful experiences, brands can forge enduring connections with the now gen, securing a promising future in an increasingly multicultural and interconnected world.